Adam Toler (GA)
Pronouns: he/him/his
Yale Divinity School '24: Master of Divinity
Why AACC? As a biracial person, I grew up in a culturally melded, Chinese-Texan household (i.e. Chinese sausage right alongside Rudy's brisket). Whether it be due to similarly mixed backgrounds and families or just the simple reality of being Asian(ish) in America, the AACC is filled with folks like me whose Asian identities lie at complicating intersections. I love that! I look forward to exploring my ethnic, cultural, and culinary identity alongside other open and welcoming individuals!
What are your hobbies? Getting tattooed, reading comics, lifting weights, jumping rope, biking, putting together puzzles or LEGOs
What is your favorite your favorite New Haven restaurant? T-Swirl Crêpe
Adam Toler (he/him) is a graduate student and seminarian at Yale Divinity School where he obtained his Masters in Philosophical Theology/Philosophy of Religion back in 2022 and is now pursuing a Masters in Divinity and ordination in the queer-affirming United Methodist Church. Adam's pastoral care practices and academic research lie at the intersection of religious themes and trauma narratives. When he is not reading, writing, or caring for stories that are "bright and sad and worth living", you can find Adam under the needle at a Brooklyn tattoo studio, flipping through pages at a local comic book shop, working out in Payne Whitney, or lounging on his living room couch watching anime with his partner.
Dorothy Wu (GA)
Pronouns: she/her/hers
Graduate School of Arts and Sciences '25: PhD, Sociology
Why AACC? AACC has been a place where I made many long-lasting friendships and had many meaningful conversations. Constantly amazed by the diversity and quality of the programming at AACC, I am thrilled to be part of the effort in creating a welcoming environment and celebrating the Asian American identity. 
What is your favorite food? Vietnamese pho and Arabic curry
What is your favorite artist/band? Lin Hai
I am a Sociology PhD student. I was born and raised in China, with experience living in Singapore and Japan. I find pleasure in reading philosophy, with a specific fascination in Buddhism and traditional Chinese philosophy. If there is anything you need, please do not hesitate to reach out, as I am a good listener and am eager to assist in any way possible.
Pia Gorme (GA)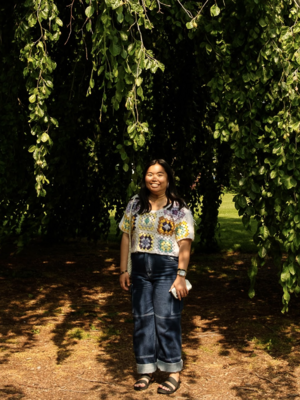 Pronouns: she/her/hers
Yale School of Public Health '24: Social and Behavioral Sciences with U.S. Health Justice Concentration
Why AACC? The AACC has helped me find home at Yale, especially in terms of having an Asian/Asian American community which I don't have the privilege of having back home in Alabama. It's also been a space for me to learn more about myself through my identity formation of what it means to be Filipina, Southeast Asian, and Asian American, particularly in a political sense. I'm excited to return to the AACC as a graduate assistant and get to know and work with the Asian/Asian American graduate and professional student community as well as the graduate and professional student communities at the other cultural centers and resource offices as well!
What are your hobbies? photography, cooking, and baking
What is your favorite New Haven restaurant? Hachiroku
My name is Pia Gorme (she/her), and I'm a second-year graduate student at the Yale School of Public Health in the Social and Behavioral Sciences department. I was born and raised in Dumaguete City, Philippines but moved to Atmore, Alabama with my family when I was 8 years old! outside of school, I love to cook and bake with and for friends, enjoy photography as a hobby, and watch tv shows and movies (Abbott Elementary and Ted Lasso are my comfort shows and anything Marvel and Star Wars I have probably watched/currently watching). I'm also involved with Kasama: the Filipinx Club at Yale (if you're Filipinx pls hmu) and part of Steppin' Out (S.O.!), the step team on campus.