Plan ahead, be courteous, clean up
1. Read (don't skim) the rules.
Think of these rules as the official playbook of the AACC. To use our facilities, you have to play by the rules. If we find your group in violation of any of them, your formal affiliation with us may be revoked and you will forfeit your privilege to use the Center.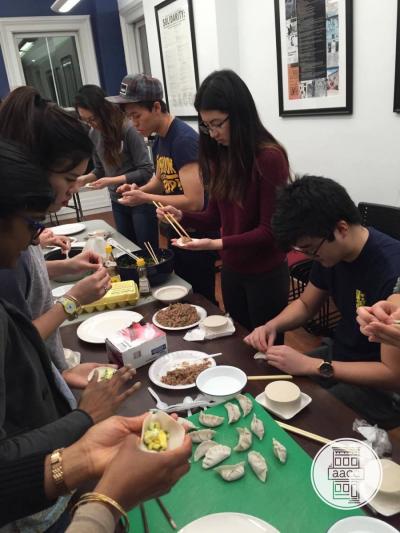 Note that groups or individuals typically reserve space on weekdays when staffers are shifting (M-Th 4-10 pm). 
2. Request specific rooms for a set time. 
You may ask to reserve multiple rooms in a single reservation request.

List your preferences by naming the rooms you plan to use. 

List the times you would like to use the rooms. 
3. Check the reservations calendar for availability.
4. Fill out a Google event and invite us.
Make your reservation at least 1 WEEK IN ADVANCE. Contact LiLi Johnson at lili.johnson@yale.edu for last minute requests.  
To make a reservation, create an event on your Google calendar. Next, invite asianamericanculturalcenter@gmail.com as a "guest." Include the name of your group in the title of the event. Name the rooms you'd like to reserve in the "where" category (options include: multipurpose room, Yung Wing living room, kitchen, karaoke room, conference room, game room).
5. Make sure your reservation is visible on the AACC calendar. 
You're not guaranteed a reservation until a staffer contacts you.
 6. Use don't abuse the kitchen. 
If you plan to use the kitchen, we expect you to leave it clean: dishes washed or put in the dishwasher, which you must fill with soap and turn on; food put away; plastic and paper waste disposed of in appropriate receptacles. 

Using the kitchen requires a staffer to "check in" and "check out" your group. You will be contacted by our staffer prior to your event to make arrangements. 

Prepping for a big dinner? If you need to use the kitchen for multiple evenings in one week, you may request a sequence of kitchen reservations once per semester. 
7. If you reserve a room, during off hours (anytime outside of M-Th 4pm-10pm), please make sure to request extended swipe access to the house!