The AACC is affiliated with the Yale College Dean's Office, located at Sheffield-Sterling-Strathcona Hall (1 Prospect Street). This Office supports the Center and its affiliated student organizations. 
Director 
We are in the process of appointing a new Director of the AACC. 
Interim Director 
Raymond Firmalino | 295 Crown Street | raymond.firmalino@yale.edu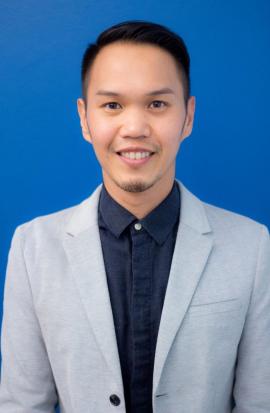 (Ray) oversees all aspects of the AACC, including strategic planning & implementation; budget analysis; campus, local, national and global partnerships; daily operations; advising to affiliated student groups; and providing supervision, support and mentoring to the Center's undergraduate and graduate student staff. 
Prior to Yale, Ray worked in community-based mental healthcare, higher education, and international development. In his earliest work as a Behavior Therapist, he provided Applied Behavior Analysis Therapy to children with developmental disabilities, and provided trauma-informed suicide counseling at California PsychCare and Crisis Support Services of Alameda County, respectively. As a Management Fellow with Catholic Charities in Brooklyn, New York, he conducted qualitative and quantitative assessments of homelessness prevention programs to address poverty (and ensuing public health issues) in New York City. He has held a variety of teaching, research, advising, counseling and administrative roles at the University of California, Berkeley, Columbia, and Harvard, focusing on increasing institutional capacity for diversity and equity. As a Fellow in the United Nations in New York and Geneva, Switzerland, he led policy initiatives on LGBTQ and women's human rights. Ray's life and background inform his philosophy of education: It should be a transformative, de-colonizing process that advances local, national and global justice. 
Ray's research interests include human development; well-being; emotional intelligence; organizational leadership; assessment & evaluation; equity in education; ethnic studies; international development; and domestic & global human rights policy.  
Born in Nigeria and raised in Los Angeles, Ray is proud to be Filipino-American, queer, and the first in his family to go to college in the United States. He speaks 3 languages at different proficiencies, obsesses over culture through food and travel, has sung pop and R&B for many audiences since childhood, explores the divine through contemplative practice, and loves animals, especially small to medium-sized dogs with gregarious personalities and who shed very minimally. To students, staff, faculty, and partners at Yale and beyond, connect with him via email or better yet, come by the AACC!
Ray completed a Bachelor of Arts in Psychology at the University of California, Berkeley, a Master of Science in Social Work at Columbia University (with concentrations in Social Enterprise Administration and International Development), and is completing a Masters in Education (Higher Education Administration) at Harvard University.