The AACC is affiliated with the Yale College Dean's Office, located at Sheffield-Sterling-Strathcona Hall (1 Prospect Street). This Office supports the Center and its affiliated student organizations. 
Director 
We are in the process of appointing a new Director of the AACC.
Assistant Director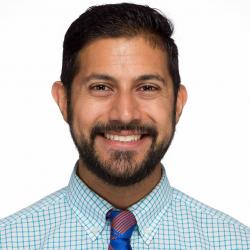 Sheraz Iqbal
We are excited to welcome our new Assistant Director, Sheraz Iqbal. Sheraz was born in Pakistan and grew up in Long Island, NY. He earned his bachelor's degree in Mathematics at Ithaca College and his master's degree in Student Personnel in Higher Education at the University of Florida. Sheraz is a first-generation college student, trailblazing into a career in Student Affairs and Higher Education. He has served in various roles in the field working in residence life, orientation, leadership and service, and multicultural engagement. His work with Asian Pacific Islander Desi American (APIDA) students includes serving as the Chair of Assessment at the University of Florida's Asian Pacific Islander American Affairs where he did assessment and research on ways to create more inclusivity for the center. Additionally, he is involved with ACPA-American College Personnel Association and serves as the Community Engagement Chair for the Asian Pacific American Network (APAN).